So you found and completed the lunch forms for school online, hoping that at least one meal in your child's day would not require considering every school lunch nutrition fact. With lunch covered, you can afford to include more fruits and vegetables and fewer ready-to-eat, high-carbohydrate items in your budget.
Maybe your budget covers those needs. But using a serving counter before your first cup of coffee? The horror!
You might have it all together, prepping meals ahead every weekend with your professional juicer, food processor, and air fryer and storing each in a delightful bento box along with encouraging notes that tell your child you love them.
Perhaps you do not quite trust the companies that provide school lunches to ensure that your child eats healthy food instead of wasting it, but you lack confidence in your own ability to create lunches that pass muster with school staff. Maybe you fear sending your child to school with something that sets off another child's allergies. Whatever your reasons for the choices you make, the federal child nutrition program can help. From serving size recommendations to school lunch nutrition facts and recipe ideas, you can find all the help you need.
Your no cereal summer continues. With just a few weeks left of summer for many families, there are many parents who may be facing the challenge of trying to continue the healthy eating they embrace this summer during a busy school year. Any routine gets easier if you include the whole family and when children help get ready for a week of healthy breakfasts by making blueberry breakfast cake, fresh fruit juices, and chewy granola bar muffins. The task can seem more manageable. And while it can take more time to include young children in the work at first, the benefits of having children who are excited about eating what they prepared can be a real benefit in the long run.
What do you do, however, when the school year starts? What do you do when the kids have to be out of the door earlier in the morning and pulling out the smoothie bar equipment takes a lot more time than going back to the temptation of boxed cereals? If a summer's efforts of drinking tasty collections of fruits and vegetables created with near professional smoothie bar equipment goes by the wayside during the school year, what have you really accomplished? Teaching your children that you only eat healthy when you have the time?
Eating and Drinking Healthy During the School Year Can be a Big Task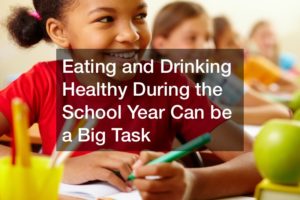 The best juice bar recipes, combined with professional grade automatic juicers can help families approach the school year with the same vigor they attacked the goal of a healthy summer eating plan. Even when time is short, in fact, families can blend together preproportioned and frozen combinations of fruits and vegetables. And while no one wants to battle a breakfast menu every morning, families that make healthy eating a priority year round often find many advantages. And while it may not be cheaper at the grocery store to opt for fresh fruits and vegetables over boxed and processed cereals, the long range health savings can be significant.
Consider some of these facts and figures about why healthy juices are a beneficial addition to any family meal plan:
A single four ounce serving of 100% fruit juice equals one serving of fruit, according to MyPlate.gov. In fact, 100% fruit juices are filled with the same nutrients that are found in whole fruit.
Although 70% of Americans do not meet these daily recommendations, the Dietary Guidelines for Americans recommends several cups of fruits and vegetables a day. How are you dong at helping your family meet these goals?
Long lauded for its healing properties, orange juice is an excellent source of vitamin C. ln fact, a single serving of orange juice contains more than 200% of the vitamin C a body requires a day.
40% of Millennials are bored with standard fruit and juice flavors, according to a 2016 Trend Insight Report from Fona International. As a result, brands, manufacturers, and businesses that offer customized products or unique flavor blends continue to appeal to this demographic.
U.S. Dietary Guidelines indicate that an intake of at least two and a half cups of fruits and vegetables a day is associated with a reduced risk of cardiovascular disease, including heart attack and stroke.
The juice bar industry has grown over the past 10 years into a global market that is valued at $9 billion.
Even if you do not have the time and money to invest in professional smoothie bar equipment, there are many ways that your family can continue healthy summer eating choices during the school year. By purchasing fresh ingredients and meal planning and prepping on weekends, you can take your enthusiasm for a no cereal summer into the fall and the rest of the school days.
You do not have to travel across town and spend money to get healthy breakfasts and snacks for your family. In fact, many parents are realizing that by investing in products that are equal to smoothie bar equipment they can create some tasty and healthy options for their children. By involving children in the preparation of these healthy food options, you can also increase the chance that they will enjoy these juices. Who knows? They may even give up cereal for life!